Opportunity to Grab VeChain (VET) at Discount Price
VeChain aims to simplify this supply chain management with the Internet of Things (IoT) technology. It was founded in 2015 by Sunny Lu; since then, it has become a popular cryptocurrency, and many corporations use this technology to track their products and services. It comes with advanced technology, which provides a unique identity for tracking the products/ services and identifying problems during the whole process. It is based on blockchain technology so that no one can change the system. In this way, companies ensure that their products are appropriately handled and delivered to the right customers.
Sunny Lu is the C.E.O. of the VeChain Foundation. Interestingly the authority published regular financial reports to maintain transparency with its investors.
They took a specialized approach that has changed supply chain management. VET is the native token of this platform.
Originally designed on the Ethereum blockchain, VeChain Thor was rebranded as VeChain Thor in 2018. It has two token systems- one is used to access the supply chain technology, and the other is used to pay gas fees. VET holders have more priority to access the blockchain resources on this platform.
Today, let's analyze the price of VET USD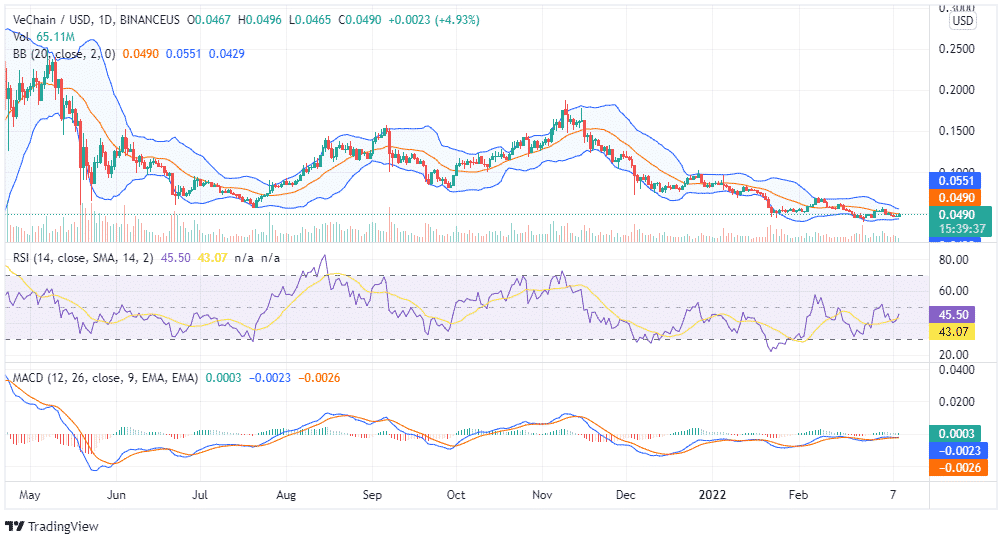 VET/USD is trading at $0.049. It has been in a downtrend since November. In 2021 it formed higher highs and lower lows, but it formed lower highs and lower lows after November. Now it is taking support around $0.045.
The last two candlesticks are green, but they are in the lower half of the Bollinger Band, which suggests bearishness. The MACD and RSI are neutral, so it is tough to speculate the momentum. We think each of these lower highs will work as resistance points. To get a clear view, we should also analyze the weekly chart.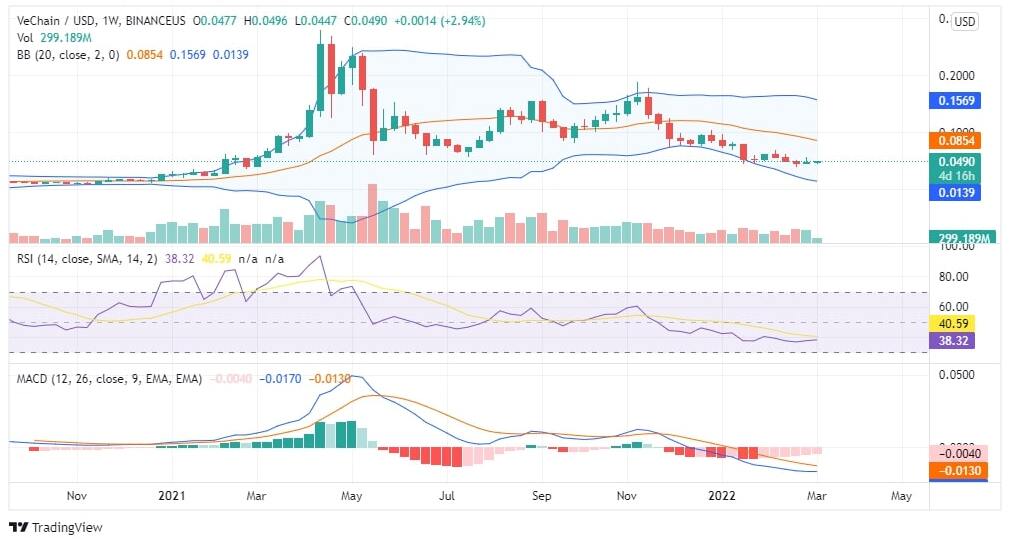 The weekly chart is highly bearish because it has broken the support level at $0.070, and it has been going down. The MACD, RSI, and Bollinger Band reflect bearishness. The last few weekly candles are in the lower half of the Bollinger band, and we cannot suggest buying until it crosses the level of $0.11.
We think you should wait for a couple of weeks to find some signs of bullish turn; then, if you buy, the target price will be $0.20. After that, it will go down again for a couple of more months. According to VeChain price prediction, it has potential, and it will provide an excellent return to its investors. You should not miss this opportunity.
Indeed, the price will be volatile, and you should keep a closer look at the chart. Are you interested in the crypto market? Follow this website to get the latest update on cryptocurrencies.