LATOKEN Will Gather Startups & VC Funds to Discuss Fundraising via IEO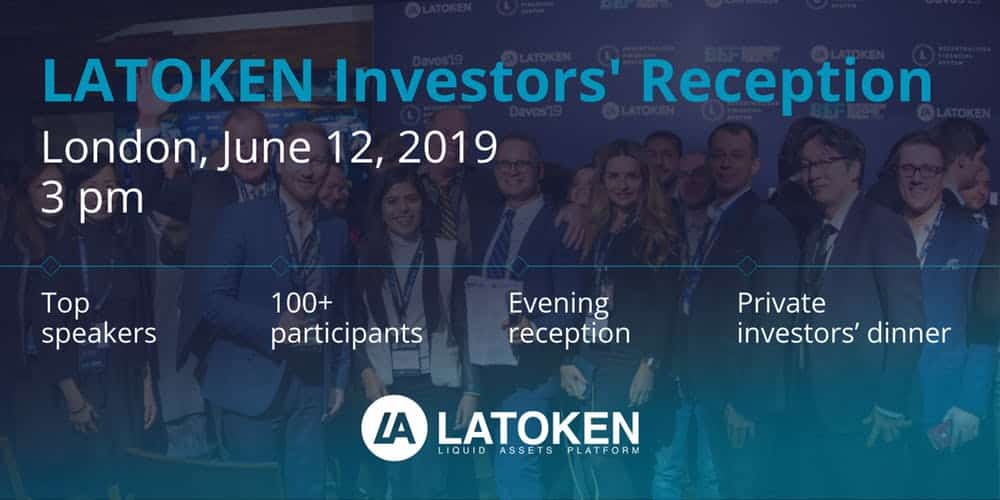 On 12th June in London LATOKEN will gather top startups and VC/blockchain funds to share fundraising insights, based on the experience of 120+ campaigns on LATOKEN. Startups on the event will find out best practices of fundraising via IEO and security offerings and could communicate with VC/crypto funds. Crypto&VC funds will have an opportunity to find new projects for their portfolios.
The event will give startups an opportunity to explore best practices of fundraising via IEO and security offerings and communicate with VC/crypto funds. Representatives of the venture capital industry, in turn, will have an opportunity to find new projects for their portfolios and exchange recent news and insight on STO/IEO market developing through networking with industry colleagues.
There are lots of VC and crypto funds who confirmed participation in investors dinner during upcoming London's event. Among them are: Jin W Jeong (Managing Director, Apis Partners with AUM $787M), Esben Stockmarr (Principal, Stockmarr Capital), Alex Tancredi (Founder, Tanter Capital), John Lowry (Founder, MontLake Capital), Max von Etzdorf (Co-founder/CIO Esipon Capital), Josef Reisz (CEO, VU Capital), Phil Millo (COO Alpanode Capital, Magnette), Andrea Bonaceto (CEO Eterna Capital), Giampaolo Parigi (CEO, Parigi Family Office), Kamila Harris (Co-founder, Dots Ventures), Stephane Ifrah (CEO, Napoleon Capital), Fred Becker (Executive In Residence, Luminous Ventures), Adam Grimsley (COO, Prime Factor Capital), Jouko Ahvenainen (Executive Chairman, Grow VC Group) and others.
Simon Wajcenberg, CEO of North Block Capital also has confirmed its participation in LATOKEN's London event. North Block Capital is a London based investment bank for the digital token capital markets. North Block principally invests in the highest quality, oversubscribed private sale ICOs. Among funds representatives also will be Josef Reisz, CEO of VU Capital. Its field of expertise is Pre-IPO shares in unicorn companies, fundraising for startups and business strategy. Usually VU Capital invests in companies and projects between $10m – $250m primarily.
Internationally well-recognized people, multi-billion-dollar VC funds, top fintech founders and CEOs visit Blockchain Economic Forum regularly to discuss the transition of capital markets and payment systems to the blockchain.
Vicente Fox (former President of Mexico), Rosen Plevneliev (former President of Bulgaria), Tim Draper, Nouriel Roubini (NYU professor), Joe Oliver (former Minister of Finance of Canada), Laura Tyson (former Director of the US President's National Economic Council), Gary Gensler (CFTC Chairman under President Obama) and many others used to be speakers on LATOKEN events.
Register and see more details on LATOKEN Investors' Reception in London here.