Deconomy Forum is Back and Even Better than the Last And Here is What to Expect from Seoul this April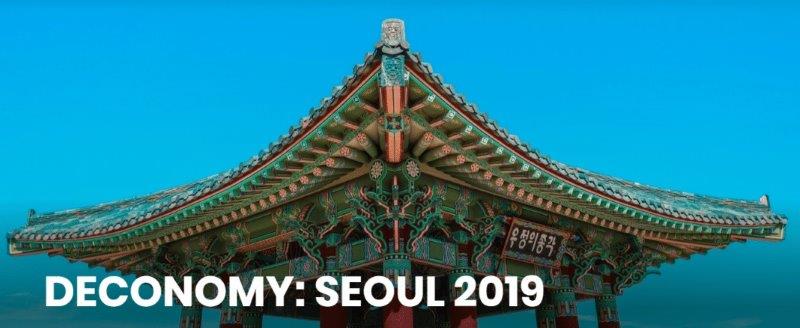 Developer and author of Mastering Bitcoin, Andreas Antonopoulos, founder of Ethereum, Buterin Vitalik, Economist and main antagonist of blockchain (aka 'Dr. Doom), Nouriel Roubini, creator of Pretty Good Privacy, the most widely used email encryption software in the world, Philip Zimmermann, founder of ConsenSys, Joseph Lubin, CTO of the world's largest blockchain consortium R3, Richard Gendal Brown, CEO of the world's largest cryptocurrency exchange Biance, Changpeng Zhao and more.
Blockchain focused digital media company Blockinpress introduces Deconomy (Distributed Economy) 2019 after a year since the inaugural 2018 event that gathered global industry leaders and over 2,200 attendees. This time it's bigger and better with more speakers from various industries and fields, at the top of their expertise.
Experts from wide variety industries are scheduled to fly in to Korea as speakers including the head of the IMF's Resident Representative Office in Singapore, Jochen M. Schmittmann, Research Advisor in Funds Management and Banking Department of Bank of Canada, Francisco Rivadeneyra, Associate Professor and Co-Director of Initiative for Cryptocurrencies and Smart Contracts at Cornell University, Emin Gün Sirer, and Gina C. Pieters of University of Chicago, Department of Economics.
From April 4th~5th, the forum will discuss the 'Financial Applications of Blockchain' and the 'Blockchain Technology'. The speakers and panels will discuss the blockchain technology that is disrupting and leading changes in the legacy industries and the present and future of cryptocurrency. The forum will also take a deep dive into the synergy opportunities through cooperative efforts across nations, and the impact distributed technology will have on the economic system.
Deconomy 2019 lowered ticket prices and allow more people to attend, to be more accommodating to the general audiences who wish to attend and take-part in speakers and panel discussions that share and direct the course of the industry for the future. Jangchung Arena can accommodate 4,000 people at a time, which is twice the size of last year's venue.
You can now purchase the tickets to the event at the Deconomy website (https://deconomy.com/seoul2019/) where a Full Pass that grants access to exhibition booths, access to keynote speakers and panels will cost US$99, an Exhibition Pass with access to the exhibition booths will cost US$10, and a full access VIP Pass will cost US$999 until February 28th. The Full Pass and VIP Pass includes lunch.
Deconomy organizer Jeff Paik stated, "The tickets were sold out last year and we had crowds of blockchain aficionados and enthusiasts at the booths trying to get in to listen to the speakers. We tried our best this year to accommodate more people to take part in deep discussions of the present and future of the blockchain by increasing the venue and lowering prices."
Deconomy 2018 was held last April on the topic of "Crypto Currency and Blockchain, and the future of Distributed Economy" with over 2,200 attendees and over 100 international media companies. The forum held six(6) sessions over the course of 2 days and had over 80 speakers including the father of Cypherpunk & Cryptography David Chaum, Bitcoin developer Craig Wright, and CEO of Bitcoin.com Roger Ver.