Forex signals: a key to success in Canadian forex trading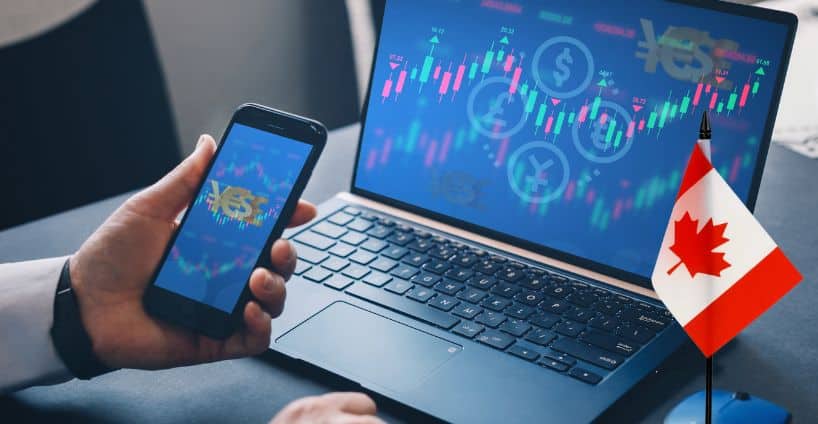 Forex signals are trade recommendations generated by professional traders or automated systems that can provide valuable insights into market trends, entry and exit points, and risk management strategies. Forex signals have changed the way forex trading is done in Canada by providing Canadian traders with a valuable tool to make informed trading decisions.
By using forex signals, Canadian traders can save time, increase accuracy, and learn more about market trends, trading strategies, and risk management. With forex signals, traders no longer need to spend hours researching market trends and charts to locate profitable trades. They only need to join for the correct forex signal service to get real-time trade advice. Similarly, forex signals have many advantages over more traditional market analysis techniques, which we shall explore in this post.
Understanding the Concept Forex Signals
Forex signals are signals evoked by automated trading systems to assist forex brokers or traders in making informed decisions about buying or selling currencies in the forex market.
Forex signals can be transmitted through various channels, including email, SMS, social media, and dedicated signal services. When traders receive a signal, they can choose whether or not to act on it by entering a trade. The indications are typically based on technical analysis, fundamental analysis, or a mix of the two. It often comprises data such as entry and exit locations, stop loss and take profit levels, and the risk-reward ratio.
Forex signal systems are classified into two types: Automated and Manual
Automated forex signals: Professional analysts collaborate with code developers to create automated signals. They are also known as forex robots or Expert Advisors (EAs) since they analyse the market and create trade ideas without human intervention. Automated signal systems use many mathematical formulas to discover patterns and send forex alerts when they fit parameters that their algorithms are programmed to recognize.
Manual forex signals: On the other hand, manual forex trading signals are generated by experienced analysts and traders who employ technical indicators in conjunction with fundamental market analysis to find probable trade recommendations.
Importance of Forex Signals in Canadian Forex Trading
The Canadian forex brokers provides forex signals that offer several advantages over traditional methods of analyzing the forex market and making trading decisions. Here are some benefits of using forex signals in Canadian forex trading:
Time-saving: Forex signals can save time for traders who need more knowledge or the time to conduct in-depth market studies. By following the indications offered by expert traders, Canadian traders can make informed trading selections without spending much time on market research.
Speed: Forex signals are generated by automated systems or professional traders in real-time. It means traders can receive trading signals and act on them immediately without spending time on market research and analysis.
Increased accuracy: Forex signals are generated by experienced traders who thoroughly understand the market. These traders use various technical indicators and fundamental analyses to identify profitable trading opportunities. By following their signals, Canadian traders can increase their chances of making profitable trades.
Risk management: Forex signals can also help Canadian traders to manage their risk effectively. The signals usually include stop-loss and take-profit levels, which can help traders to limit their losses and lock in profits.
Learning opportunities: Forex signals can provide valuable learning opportunities for Canadian traders. By following the trades and analyzing professional traders, traders can learn more about market trends, trading strategies, and risk management.
Accessibility: Forex signals can be accessed from anywhere, as long as a trader has an internet connection. It makes it easy for Canadian traders to receive and act on signals received by the regulated brokers in real time, regardless of location.
How to Choose the Right Forex Signal Provider for Better Output
Choosing the right forex signal provider can be daunting, and it's important to avoid common mistakes that can lead to poor performance and losses. Here are some common mistakes to avoid when choosing the right forex signal provider:
Not doing your research: It's essential to do your research with due diligence when selecting forex signal providers. Look for providers that have a good reputation, provide transparency on their trading history, and have positive reviews from other traders.
Falling for unrealistic promises: Be wary of signal providers that make unrealistic promises of high returns or guarantee profits. No signal provider can guarantee a profit, and choosing a provider that provides realistic expectations and risk management strategies is important.
Not considering the cost: Some forex signal providers charge high fees, which can eat into profits. It's essential to consider the cost of the service and make sure that it's reasonable and affordable.
Over-reliance on signals: Using forex signals in conjunction with your own analysis and strategy is important. Over-reliance on signals can lead to poor performance and losses.
Not considering the trading style: Different forex signal providers may have different trading styles and strategies. Choosing a provider that matches your own trading style and strategy is important.
Not considering customer support: Good customer support is important when choosing forex signal providers. Ensure that the provider offers responsive and helpful customer support in case of any issues.
Conclusion
Forex signals offer speed, objectivity, efficiency, accuracy, risk management, and learning opportunities, making them valuable tools for traders who want to make informed trading decisions. However, it's important to note that forex signals should not be solely relied upon and should be used in conjunction with a trader's own analysis and strategy. When choosing a forex signal provider, it's important to research, avoid unrealistic promises, consider the trading style, and consider customer support. By avoiding these common mistakes, you can increase your chances of choosing the right forex signal provider for better output.